You built your e-commerce website over several months or even years. There is still no traffic. To increase traffic, look at this guide to e-commerce SEO.
Need Assistance with your On-Page SEO ?
The customers you sell to have no idea what they are looking for occasionally.
You need to optimize your e-commerce website for SEO to reach the right customers.
Knowing where to begin with so many build-it-yourself options like Shopify, BigCommerce, and Squarespace is challenging.
For eCommerce SEO, there is no one size fits all approach.
You've probably had a straightforward relationship with your e-commerce website up until now.
You have added product pictures. Each product page now includes a copy.
Possibly started some category pages. So far, it has been successful.
All of the major e-commerce websites are built with SEO in mind.
This article explores the world of e-commerce SEO in greater detail than you could have ever imagined.
Why Does SEO Matter for Ecommerce?
Getting new clients can be challenging, particularly if search engines can't find you.
You need customers for your e-commerce site to succeed. (Obviously, I assume) The issue is that it costs money to draw customers attention.
The average cost per click in the apparel sector, according to WordStream, is about 89 cents, while the average cost per action is just under $10.
For just a few new customers, you might spend thousands of dollars.
By assisting your site's appearance in the SERPs, you'll gain free (yes, free!) organic traffic if you jump on the SEO bandwagon.
Pretty significant, no? Because 32% of consumers use Google to research products before making a purchase,
View this case study to see how eCommerce SEO helped a mattress company achieve a whopping ROI of 53,571 percent.
Additionally, it would help if you seized every chance to raise your SERP click-through rate. To participate in the $861.12 billion eCommerce market,
I've highlighted five crucial SEO tactics to increase website traffic and sales.
1. Keyword Research
Creating an eCommerce SEO strategy requires a solid foundation, which includes conducting keyword research.
Find out here how to conduct keyword research for e-commerce.
Keyword research is the cornerstone of every SEO strategy, particularly onsite SEO.
If done correctly, it guides the kind of content you should optimize for.
However, a successful keyword with a poorly implemented strategy won't help you increase sales in your online store.
When conducting keyword research for e-commerce (or other uses), there are two main methods:
Understanding is necessary before beginning. The various factors involved in choosing effective keywords. Here are a few essential considerations:
Search Volume
This author insists on using Ahrefs even though many free keyword research tools are available.
The search volume can be calculated using your preferred tool.
A high match search volume indicates that many people are looking for a particular term. High search volume may also be a sign of fierce ranking competition. It would help if you were realistic regarding ranking difficulty and the search volume for your website's domain authority.
Any keyword receiving more than 20 monthly searches is generally considered worthwhile.
Ranking Difficulty
Competing with the current search results will be difficult if your ranking difficulty score is high.
It all comes down to your website's authority in your particular niche.
Ahrefs offers a helpful tool for assessing your domain authority (they refer to it as "domain rating") based on your current backlink profile.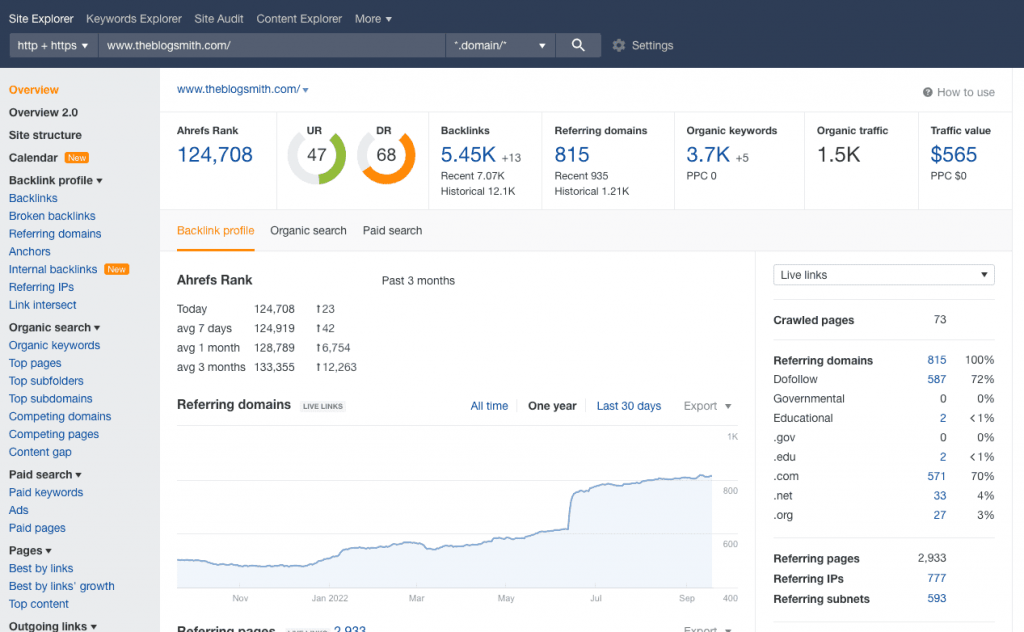 In general, you should choose keywords that are on the easier side for a new website.
It gets exponentially more difficult to appear in relevant search results as their difficulty approaches 100, much like the now-defunct Klout score.
Similar reasoning applies to increasing domain authority, calculated using a logarithmic scale.
Search Relevance
Consider the keyword's relevance to your website and the products you're selling, even if it has a high search volume and you're confident you can rank for it.
To put this into perspective, think about the value of 10 qualified prospects generated by search as opposed to 1,000 unqualified visitors who will never make a purchase and who leave your website right away when a relevance mismatch prevents them from finding what they were looking for.
What e-commerce pages should be optimized?
The top priority pages for keyword optimization for an e-commerce store are the home page and product pages, but these are by no means the only pages worth the effort.
Never miss the opportunity to include your target keywords in category pages, blog posts, image files, and even ALT tags.
Finding Your Position in Relevant Search
Setting benchmarks is necessary before you can make decisions about your keyword strategy that are well-informed.
Doing this lets you focus your efforts on producing new content rather than updating existing content.
Tools for Monitoring Keyword Rank to Measure Success
Have you already begun developing your e-commerce website and tried to include keywords? To find out where you stand in pertinent searches, include some sort of keyword ranking tracker.
Once more, Ahrefs' Rank Tracker feature can help you with this task in addition to other previously mentioned ones.
But by linking your website to Google Search Console, you can also rely on free information that is easily accessible.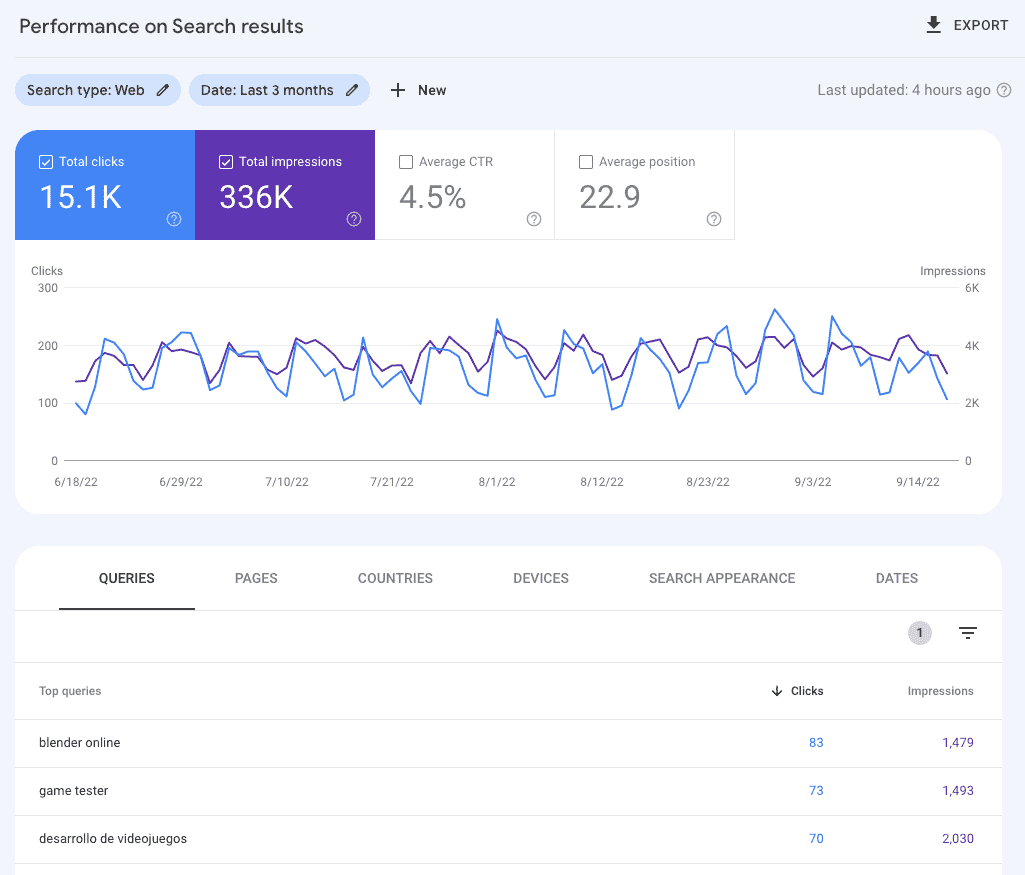 You should check the Performance report to find out which keywords you rank for and where they typically appear on the search engine results page. In addition to the report's suggestions, add your keywords manually.
Checking your rankings frequently can signal to improve the content that begins to fall in terms of average ranking positions. Ranking declines are a warning sign that updates are required to keep your position on search engine results pages (SERPs).
Investigate the competition.
Check how your competitors are performing after determining where your website is ranked. This will give you an idea of how much work you'll need to succeed and suggest how to concentrate your keyword research efforts.
This is particularly crucial for e-commerce because failing to rank first results in a loss of conversions. You might lose about half of the potential traffic for that query if you're listed second on the SERPs, and your rival is listed first.
During the process of researching your competitors, keep the following in mind:
The precise keywords they're pursuing.
The amount of page authority needed to rank where they are.
Their domain authority, which is a gauge of a domain's strength (heavily based on backlinks from authoritative, niche-related sites).
Where their links are coming from can help you think of guest posting and other opportunities for collaboration.
The best keyword tool for conducting competitor research for SEO and PPC campaigns is SEMRush. You can use it to determine each of the puzzle's components above.
SEMRush Keyword Tool
In addition to being helpful for tracking and researching keywords for your e-commerce website, SEOs also adore the SEMRush keyword tool for its value in monitoring the competition.
Simply enter a URL to see metrics like the number of organic search queries, the volume of organic traffic over time, the volume of paid search queries, the number of backlinks, the referring domains and IP addresses, and the traffic split by geographic channels.
These statistics can be seen in terms of Google indexes for various nations and desktop and mobile searches. You can also conduct local searches for the regions you sell to.
Additionally, SEMRush provides you with a list of associated keywords and phrase match keywords, which are variations of the search terms that people enter into search engines to find websites like yours. This feature will be especially helpful if you're unsure who your biggest competitors are.
You can search for pages with a high rank in specific regional SERPs that let you view popular and uncommon keywords for up to five domains and another that demonstrates how challenging it is to rank for keywords your rival is using.
As if spying on your rivals wasn't enough, SEMRush also has a Keyword Magic Tool that gives you access to more than 2 million keyword suggestions.
Although it's important to note that Ahrefs also provides many comparable features, it is an all-in-one solution for competitor analysis if you want to stick with just one monthly SEO tool subscription.
Ideally, you'll test both options before deciding which is best for your requirements.
Use Long-Tail Keywords
In summary, using broad keywords no longer makes sense for SEO in the modern era due to excessive competition and relevance issues.
Therefore, optimize primarily for long-tail keywords, especially when developing the content for your eCommerce website's product pages and blog posts. Although fewer people will search for these terms, those who do are more certain of what they want and, as a result, are more likely to make a purchase.
High-intent keywords have a high level of commercial intent, which denotes a high probability that the searcher will act—whether to inquire, make a purchase, or gather information—which may ultimately result in a sale.
Examining your preferred keyword research tool's cost per click (CPC) can help you determine keyword intent in eCommerce (a metric that references paid search ads). Although they are more expensive, specific keywords show high search intent.
There are four types of search intent, as opposed to the three commonly recognized by SEOs (navigational, informational, and transactional):
Five advantages of long-tail keywords for online stores
Here are the top five advantages of long-tail keywords.
1) Less competitiveness
Long tail phrases might not receive as many monthly searches compared to generic keywords. There are consequently usually fewer websites attempting to rank for long tail keywords.
To make sure that people looking for those keywords see your content, you need to outrank many competitors because there are already millions of pages built around broad search terms (like "hiking gear"). The competition is lower when you focus on long-tail keywords, though.
Therefore, there is a greater likelihood that your e-commerce site will rank highly and draw visitors from those search terms.
2) More targeted visitors
Additionally, long-tail keywords can help your company draw in more qualified leads. This is because more focused search queries frequently indicate higher purchase intent.
For instance, a search for "women's size 7 hiking boots" indicates that the user is more likely to be prepared to purchase a search for "hiking boots" or a more general term.
Users are looking for general information, such as how to choose a pair of hiking boots or their benefits, may use this broad keyword. Ranking for those keywords can benefit brand awareness, but they probably won't lead to as many conversions as longer, more precise ones.
3) Increased conversions
For your e-commerce business, less competition and more targeted traffic can also increase conversions.
Long tail searchers most likely have a clearer idea of what they are looking for. Additionally, users who find your website through long-tail searches are probably more likely to explore your store further or buy something.
4) Higher revenue
It should go without saying, but using long-tail keywords for your e-commerce store will also likely increase your revenue due to the higher conversion rates and more qualified traffic. It's crucial to remember that not all long-tail keywords will generate a lot of immediate income.
However, they can increase website traffic and introduce potential customers to your brand.
5) Targeted content
Understanding and utilizing long-tail keywords allow you to find topics significant to your target audience and develop new content about those long-tail search queries.
Using the hiking store as an example, you could produce a thorough guide or video on topics like "best beginner hikes in [your state]" or "what to pack for a day hike." Searchers are likelier to click on your website, find out more about your e-commerce store, and make a purchase when they discover useful content produced by your company.
And producing worthwhile content can establish your company as a pioneer in your field.
Informational Search Intent
Informational keywords indicate that a user is looking for details and has queries that need to be addressed.
These keywords would be classified as "I want to know" searches by Google's Search Quality Rater guidelines, and they would position searchers at the top of the sales funnel.
According to Practical Ecommerce, optimizing for these kinds of keywords probably won't result in a sale immediately. However, they still represent ways to interact with potential customers early in their purchasing process.
Informational intent keywords are best for producing content that offers advice and responds to queries because they typically answer questions (how, how to, what to, where to, etc.).
Investigational Search Intent
An informational and transactional search can be characterized as an investigational search.
Although it isn't directly transactional (users who search for these queries may not be prepared to make a purchase), they represent users who are further down the sales funnel than users who search for information.
People who conduct investigational searches may be trying to compare the costs and features of various products or deepening their understanding of a topic (by doing research).
Investigational intent isn't typically counted among the top three types of search intent, but when considering Ecommerce uses, it makes sense to expand on this hybrid type of intent.
Compare, for men, for women, alternative, review, and best are a few keyword signals for this kind of intent.
In general, focus on these keywords when creating content to persuade potential clients that you are superior to the competition.
Transactional Search Intent
When a customer is prepared to purchase, they conduct a transactional search. These are typically referred to as keywords with high commercial intent.
Keywords like "sale," "coupon," "price," "buy," "for sale," "free shipping," "where to buy," "discount," and "review" are examples of those that denote transactional intent.
Keyword signals for transactional searches can also include product keywords (such as "winter clothing" or "coffee maker"), specific products (such as the iPhone 14 or Samsung s23), and branded searches.
Create product pages and local SEO content using these keywords.
Along with long-tail keywords, you should also focus on opportunity keywords, which rank between positions 11 and 20 and have a high search volume and a low difficulty score.
Create an editorial calendar that reflects a strategy that optimizes each type of intent to tie everything together. Don't just concentrate on optimizing for transactional intent; by creating content that speaks to each type of intent, you'll develop a more comprehensive sales funnel that reaches people at different stages of the buyer's journey.
How to locate long-tail keywords for an online store
Here are the top three suggestions for finding long-tail keywords for your e-commerce venture.
Tools for Keyword Research
For keyword research, resources like KWFinder, Serpstat, Answer the Public, and the Keyword Tool from SEMRush or Ahrefs are excellent places to start.
You can find long-tail variations of generic keywords using them, in addition to helping you grow your keyword list. For instance, you might begin by typing a general keyword associated with your company.
Then, based on information people search for online, the tools will offer a list of related topics. You can then optimize your pages to include information on those topics after gaining valuable insight into the subjects potential customers are curious to learn about.
Remember that not all of the keywords you find using these tools will be pertinent to your company. However, they can be a great place to start when figuring out which long-tail keywords will have the biggest impact.
Google Suggestion
For your e-commerce business, you can also use Google's Autosuggest feature to find long-tail keywords. Simply begin by entering a general keyword into Google.
Then, examine some specific phrases the search engine suggests rather than pressing Enter. You could type "hiking supplies" or "gear for hiking," for example. Based on what people search for, Google will suggest related searches.
This indicates that users are already routinely looking for this information. People are, therefore, more likely to find your website and click through to read more if you write content to address these niche, long-tail searches.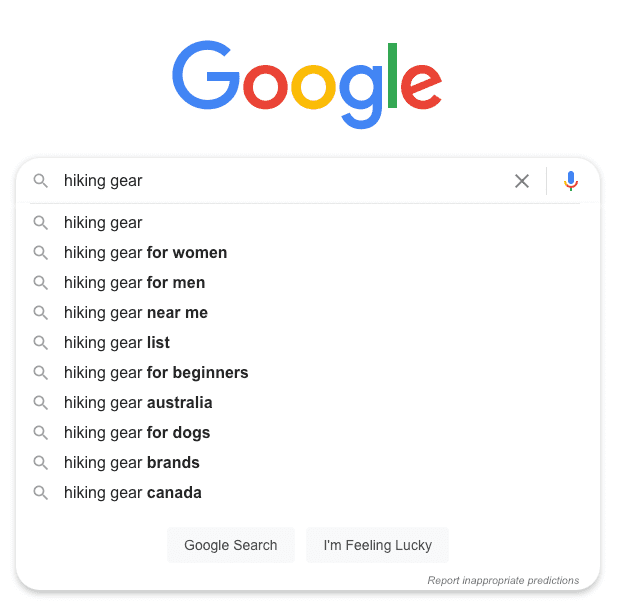 Keyword difficulty
The difficulty of the long tail keywords you want to target is another factor to consider. Or, how challenging will it be to appear in search results for a specific phrase?
You can look at search volume information, trends, and level of competition for the keywords you enter using tools like Google's Keyword Planner and the Keywords Everywhere extension.
Next, you can look at websites that are already ranked for the long-tail keywords you want to target. Are there any extra details you can add to your pages to make them more valuable to searchers?
If so, creating the page might actually benefit your target market and help you draw in the traffic you need.
Knowing this information will make it easier for you to choose the long-tail keywords that will have the biggest impact and write copy that will be beneficial to potential customers.
Shopping Site Architecture
Ecommerce architecture planning is just as crucial as planning a building block. If you don't create a detailed blueprint for your home, it will fall apart in a few years.
Your e-commerce website experiences the same thing. Since Logic has been in business for more than 13 years, we've seen clients come to us for performance optimization only to leave with a completely new eCommerce website because their legacy architecture was the main cause of slow business growth.
The back-end and front-end architecture of your online store should ensure the scalability and flexibility of your website. But it also depends on the information and search organizations you use to provide better user experiences. Retailers frequently struggle to strike a balance between these two factors.
Why Do You Need a Good E-commerce Architecture?
Two definitions of e-commerce website architecture exist Ecommerce site architecture:
It has to do with the technical framework supporting your e-commerce store and the interactions between the presentation, business, and data layers of your website.
It is a method of information presentation on the website that establishes a hierarchy of the relationships between the data blocks.
To put it simply, is the framework or underlying design that enables your company to expand, maintain its online presence, and deliver the exceptional user experience (UX) that all retailers aspire to.
Why is a well-functioning eCommerce architecture design essential?
It assists search engines (SE) in indexing and ranking the website higher. The connectivity of structures and their influence on SE operating logic is crucial. Therefore, the target website should be structured in a scannable way to enable simple crawling and indexing.
Scalability is possible with it. You might not need to build the website from the ground up — you can upgrade and add features to the existing one depending on the language and tools used. However, you can only do this if you are aware of the specific website elements and structures that will be changed.
It makes third-party integrations simple. Similar to the aforementioned example, understanding the connections and links in the architecture of your e-commerce software will help you power your software with the solutions provided by various vendors, enabling you to provide a better user experience.
The experience of the user is improved. A thorough ecommerce project architecture not only facilitates the addition of new useful features but also makes the website easier to use. Internal linking, a sitemap, a navigation menu, and other features should all encourage visitors to stay on your website and browse it without feeling lost.
The solution architect, who plans the technical architecture for e-commerce websites, must be involved in the development of the website from the very beginning. Discussing the website architecture before developing the site will help you avoid going over budget, having unexpected code conflicts, and wasting money on things that could have improved without being deleted.
Three different architectural styles are currently used for e-commerce websites. We describe their unique characteristics, offer an eCommerce architecture diagram for each type, and list their benefits and drawbacks below.
A two-tiered architecture for e-commerce
A two-tier website architecture implies that the client domain and the business database domain each have their side of the architecture. They are constantly in contact.
The database might respond to a request to provide or process the data, for instance, when the user requests information from the database or sends their data (such as account or billing details) to be stored there. Such real-time communication is made possible by the well-planned eCommerce website architecture design.
Due to static business rules, the two-tier architecture is frequently used in homogeneous environments. It's also the best choice for startups that want to test their theories before investing a lot of money in a large-scale platform. It does, however, have some restrictions.
Three-tier architecture for e-commerce
In a three-tier eCommerce architecture, a server-side middle layer is present in addition to the client and database layers. This creates the architecture's three layers.
One of the biggest differences is that each layer operates independently, runs on different servers, and is treated as a separate module when it comes to its development, modification, or maintenance.
Large-scale businesses that cater to numerous users must have this type of architecture, but drawbacks must also be considered.
A type of architecture called "n-tier architecture" follows the principles of three-tier e-commerce architecture. This scenario maintains decentralization and evens data distribution by using multiple servers between the client and database layers.
This type has all the benefits of a three-tier architecture. Still, it multiplies its drawbacks, making it more difficult and expensive to ensure that an e-commerce architecture's components communicate flawlessly and test them.
Microservices architecture for e-commerce
A growing number of platform developers are moving away from the monolithic approach (where everything is contained within the same code base) and toward the microservice-based one due to the abundance of third-party solutions that can improve the user experience in the eCommerce sector.
In this context, the term "microservice architecture" refers to developing an application or website using several services that are less dependent on one another.
A company using this strategy to develop e-commerce platforms and tools is Commercetools, a leading example of an e-commerce microservices company. Magento (also known as Adobe Commerce) is currently redesigning its architecture and moving away from the monolithic method. The first step towards this isolation is the inclusion of service contracts in Magento 2.
The maintenance complexity makes microservice-based eCommerce architecture and system design a poor choice for startups, even though it seems like the ideal solution for enterprises. Consider the advantages and disadvantages.
Take the example of choosing to upgrade your e-commerce architecture. Is there anything else you could do besides hiring a seasoned solution architect to handle the technical aspects? It is quite a bit. Here are a few pointers for enhancing your website right now!
Advice on Ecommerce Architecture to Improve Your Website
While the technical aspects of e-commerce architecture are important, content and website structure is also important. Here are four do-it-yourself strategies that we suggest for improving your e-commerce search architecture.
Locate and Include Your Desired Keywords
Your platform's content attracts not only the attention of your customers but also search engines (SEO). When someone looks up the item you sell, the latter displays your page in the search results.
This is why it's critical that you assist the SEs in quickly finding, indexing, and ranking your e-commerce website. The first step is to define, group, and distribute the keywords throughout the website as they serve this purpose.
Top recommendations:
Make a spreadsheet with columns that correspond to the pages of the website.
Link relevant pages, URLs, headings, and content to keywords (up to 2 KW for each)
Add relevant keywords to HTML elements, content, and links. Make sure they are concise and naturally appropriate.
Benefit from Internal Linking
Internal linking uses hyperlinks to connect two pertinent web pages, products, or publications.
This method can enhance the client's experience and show them more products relevant to their search without interfering with the purchasing process. Added advantages include the following:
Internal links on your homepage should follow the following structure: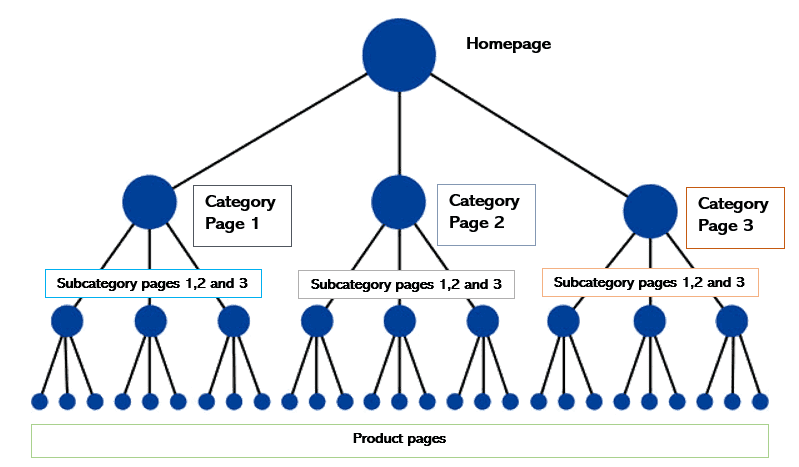 Image source Moz
Using links and correctly labeling them can improve a website's online performance and add more keywords to attract the search engine spiders' attention. However, don't abuse it to avoid becoming a spam website.
There's a good chance that the customer will close the tab without returning if they can't find the button or menu they need. However, you can avoid it by designing easy-to-use site navigation. How do you do it?
To make it easier to find the product/category/action, add a sidebar, footer, main navigation menu, breadcrumbs, and "to the top/down" buttons.
Because navigation keywords are used similarly by all clothing retailers, using branded keywords will help you rank higher and reach a specific target audience.
Improve Your Category and Product Pages
The product and category pages are the foundation of any e-commerce architecture design. Finding a needed item shouldn't be difficult for the customer, especially if there are many different options available, such as variations in size, brand, price, etc.
Technical SEO for online stores
Technical SEO is an essential component for eCommerce stores. With these SEO tips, you can increase your online store's visibility and sales.
Due to shifting market conditions over the past two years, many businesses have switched to online business models.
Many industries are seeing a rapid increase in competition.
Some businesses succeeded with pre-built templates and e-commerce solutions. You must, however, offer the best user experience given the intense competition in search.
You will eventually need to get involved in the technical aspects of your website if you want to avoid making mistakes that could harm search performance, particularly if you plan to migrate your site or stop using services that come out of the box.
Even though platforms like Shopify allow you to manage even very large e-commerce stores, you should still take the time to comprehend the technical tasks these platforms handle.
Technical SEO for eCommerce stores, which is divided into technical proficiency and technical optimization, is a crucial component.
URL structures and website architecture
I use the term architecture rather than site structure because the latter can cause people to only pay attention to URL structure.
The site's architecture ought to resemble that of a typical catalog.
Catalogs have existed for many years.
Compared to the traditional chain of department store catalogs from the 19th century, which dates back more than 100 years, very little about how we structure offline catalogs and even modern e-commerce websites have changed.
Users have become accustomed to this format after years of repetition, so a straightforward site structure of
Homepage > Categories > Sub-Categories > Products
Users are familiar with it, and it makes logical sense. Your URL structure should then follow and be consistent and descriptive of the page (for users).
Additionally, products should be placed in their category-neutral subfolder so that you can add them to various pertinent categories without having to duplicate the product pages.
Example:
Category Page: example.com/category
Subcategory Page: example.com/category/niche-1
Product Page: example.com/p/product-name or website.com/products/product-name
Trying to keyword stuff eCommerce URLs isn't a "needle-moving" strategy, in my experience.
Leading e-commerce platforms like Shopify and Salesforce Commerce Cloud impose URL structures that contain product SKUs and subfolders on you. These websites can compete with each other just as well.
Configuration of the Google Search Console and sitemaps (XML and HTML)
Although they may not be strictly necessary, HTML sitemaps are good for e-commerce websites. Better internal linking to category and subcategory pages may be possible with HTML sitemaps. They aid users in navigating your website by helping you track and organize your pages.
Additionally, having an XML sitemap is optional but can aid Google in URL discovery.
And you can spot potential problems when you crawl your URLs linked to the Search Console Inspection API (e.g., a category page being found only via an XML sitemap and not through internal linking).
You can use this information to determine whether the value proposition and quality of a particular category, subcategory, and product pages need to be improved.
To provide a natural crawl path to pass PageRank from the homepage to categories and subcategories without spammy lists of links, you can also incorporate an XML sitemap into the design of your homepage.
Managing Stock and Soft 404s:
Your product page templates will change to reflect any stockouts of your products.
You could lose traffic and ranking for the associated search terms if Google interprets the page as a "soft 404" and removes it from indexing.
Users will have a poor impression of your brand if they arrive on your page looking for a specific product only to discover they can't purchase it.
However, you can also use this as an opportunity to cross-sell other goods or to offer the user a reward for holding off until you restock.
Automation is a viable option.
If a product template displays the default out-of-stock message when the stock level drops to zero, Google will recognize it as a soft 404. Bring comparable products and elements to the product page to create a different value proposition to avoid this. The user is given instructions for what to do next and can avoid the soft 404 error.
Consider the scenario where your supply of Brand GEARWRENCH 60 mm Screwdriver runs out. If you have comparable products in stock, add an automated check to take the place of the "out of stock" message. The automated check can use your product information management (PIM) system. Modify the template to display comparable brands and goods that satisfy the same or similar requirements.
You can change the messaging to "out of stock online" and point users to a store locator if you also run physical stores.
Additionally, you can develop templates that use your PIM to find upselling and cross-selling possibilities for additional pages.
if you employ custom tagging in your PIM, you can use various factors to direct customers toward similar products (e.g., size, color, shape, release event).
When optimizing your e-commerce store, using PIM data to add value for the user should be standard practice. If your competitors have similar pages or value propositions, the increased usability may help your product pages stand out from the crowd.
Structured Data
By supplying Rich Snippets in the SERPs, structured data can help an e-commerce website's products perform better in the search results. Additionally, it gives search engines clear information so they can understand all the essential components of the product (for comparison with competitor websites).
However, Rich Snippets cannot guarantee increased click-through rates from the SERPs to your pages.
Product schema is significant for product pages and can enable review-rich snippets.
You can also use the ItemList schema for the category pages. You can include the LocalBusiness schema on the specific store pages if you have neighborhood stores.
The website should also be utilizing other generic schema types in addition to Product schema, such as:
Breadcrumb.
Website.
Sitelinks Search Box.
A more technically advanced website offers a better user experience and can give you an advantage over your rivals. Check out this comprehensive eCommerce SEO guide or SEJ's technical SEO category if you want to learn more.
On-Site SEO
Carefully consider homepage SEO
Most companies usually concentrate their SEO resources on their homepage.
While it is unquestionably one of the most important pages of your website to optimize, you should not only concentrate on this one.
Having said that, you should optimize your homepage effectively. The following are the main components you should enhance.
Homepage Title Tag
The SEO title tag is one of the most crucial pieces of onsite search optimization. Along with the primary keyword phrase you are aiming for, it should also include your company's name.
Since searchers will read this title tag as it appears in search results, you should keep it to less than 70 characters and make it appealing to them.
Meta Description for the home page
Your homepage's meta description is a 160-character synopsis of your business that will also appear in search results below the title tag, though it is not crucial in terms of keyword rankings. It should be written so that readers are enticed to visit your website.
Content for the home page
Visitors should be able to easily and concisely learn more about your company and the products you sell from the content on your homepage.
Be careful not to overwhelm visitors with information. Think about emphasizing your unique selling proposition and a select few of your best products on the homepage.
Messy homepages can be confusing to both users and search engines. For instance, you may sell goods under numerous categories.
Get specific about what your website offers because otherwise, Google will have trouble identifying what you sell and who you're targeting with your products.
Boost Product Pages
Your company's product pages are its lifeblood, so you should put a lot of effort into optimizing them. Many e-commerce store owners just post an image or a video with a few lines of text about each product.
For Google to find your product pages, you need more details. These are the particular things you should focus on.
Product Name
Your product's name is crucial. It's also frequently used in the SEO title and URL of your product page. Due to this, you might want to consider including a popular search term or keyword phrase in your product descriptions.
As an illustration, if you sell T-shirts, ensure the product name contains the words "T-shirt" or "tee." The keyword will then appear in both the SEO title and URL.
Additionally, that keyword will appear in the title of posts your product shares on Facebook or Pinterest.
Optimizing Images
Your product page's images are very important. Consider yourself your customer for a moment. Which website—one with an image that clearly shows the product from as many perspectives as possible, one with no image, or one with a small, illegible image—will you be more likely to purchase from?
Images are crucial for search engine optimization as well as for your customers.
Start with the filename to properly optimize your images for search. Do not include IMG_0010.jpg images on your product pages. Use the item's name and the primary keyword, like east coast-skinny-jeans.jpg.
Include keywords that people would type in a search to find alternative views of your product if you have them.
When you add an image to your product page, include the image's ALT text with the product name and keyword.
The outcome? As seen in the image above, your images now have a chance of showing up in Google Image Search or the main search results page as a part of the additional media showing.
Add video
You can give your customers more assurance about their purchases by including videos on your product page. The video could contain introductory material about your product (like a commercial), a how-to guide on how to use the product to get results, or customer reviews.
A great way to draw in and inform potential customers about your products is by posting videos online on platforms like YouTube.
DIY instructional videos, for instance, can demonstrate to people how to use your products to make amazing things. They'll be more likely to purchase your related products once they get excited about working on that project.
Add Customer Reviews
Allowing reviews is another way to increase consumer confidence in your product, so do it if it's a quality item.
Even negative reviews occasionally have their benefits. If you have a higher-priced item with excellent reviews and a lower-priced item with average reviews, it stands to reason that people will choose the higher-priced item, increasing your company's sales.
FAQ Content for objections
Do customers have inquiries about your products? Naturally, they do. Conversions can be increased by including product-specific FAQ content on your product pages.
If customers have questions you cannot address, they will look elsewhere for information and are likely to purchase from that source.
Another smart move is to include a general FAQ page on your website. Increased customer confidence can increase sales by answering simple inquiries about your website's security, shipping, and return policies.
Use responsive design.
Nowadays, a lot of people shop on their mobile devices. Your e-commerce website's responsive design can enhance search results and the user experience. Mobile-friendliness serves as a ranking signal in Google's mobile-first index.
Improve Page Load Speed
Additionally, page load time affects rankings on both desktop and mobile devices. Google will give you a higher ranking the quicker your pages load.
How can page load time be slowed down? Concentrate on removing as many extraneous elements from your page as you can. For instance, it might not be necessary to use a large background image largely hidden by a white body column. Remove any plugins or add-ons that don't help your e-commerce business make money.
Image Dimensions and Size
The longer it takes for a browser to load your images, the larger they are. You can cut an image's "weight" in half by shrinking it from 1,000 x 001 pixels to 500 x 512 pixels. With a program like Adobe Photoshop, you can save your images as lower-quality JPG (JPEG) files.